Our new Print Shop on Red Bubble

__________________________________________________________________________________________________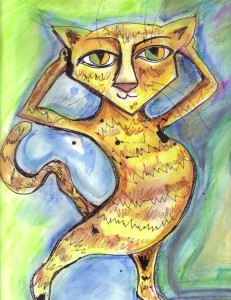 Ciao Meow Greeting Cards!
KittyBliss is the world's favorite eco kitty, protecting the environment and searching for bliss.
"Kitty Bliss" is a state of "Being" Being in a state of "Here and Now" Acknowledging our Vital Presence and Total Connection to the Unfolding universe…..Tapping into our own Personal Bliss.
Kitty Bliss is an attitude, akin to the philosophy of Buddhism and or Animism. This courageous and humorous character hopes to instigate awareness and a respect for all of life.
KB is inspired by the Divine presence of Cats in my life. Just be observing them, I see how they capture "Bliss" when purring, In the sun….while rolling on their backs or on your lap. Looking at you with pure love in absolute Kitty Bliss
$4.25 inclusive of tax and shipping
This is a blank card printed from an original watercolor. It measures 5″ X 7″ and will include a white envelope. You could use this card for most occasions or frame it and keep for yourself. All cards are printed on recycled paper
e-mail lisarasmussen08@gmail.com for special priced bulk orders
or
buy now on PayPal Below